Earlier this year the property management for my apartment building gave us notice that all apartments would be upgraded with smart home technology by Smart Rent. We were given a brief notice via email and a meet and greet to ask a few questions. A few days later they replaced each apartment lock with a Yale smart lock and texted us our PIN.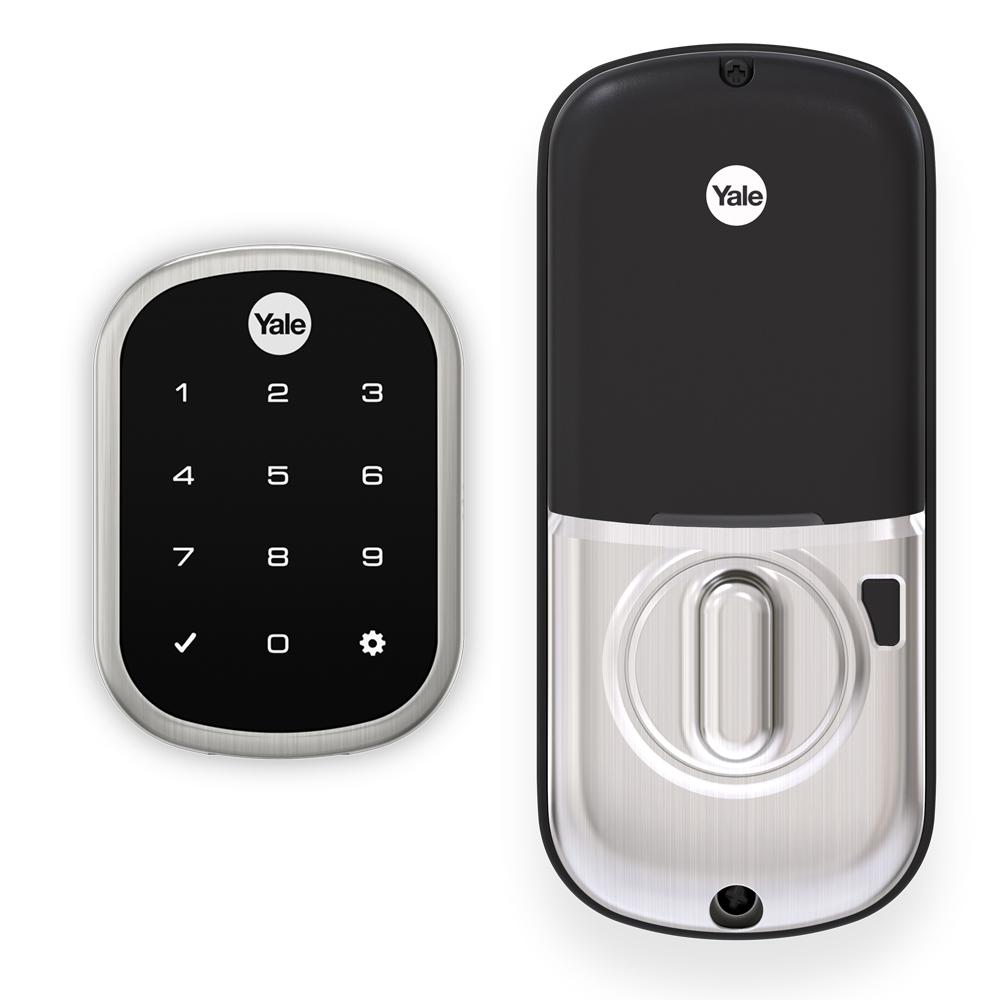 In general I'm a huge fan of our increasingly connected world. I've worked on home security cameras that help families find peace of mind and delivery robots that make hotel guests and staff feel safer by delivering to guest rooms late at night. Every day I ask Google to play music while my wife and I cook dinner or clean the apartment. When it comes to connected devices and the smart home I tend to be an early adopter and have been looking forward to a smart lock for years, ever since the beautiful August smart lock was announced.
Unfortunately the reality of living with a smart lock has been mostly disappointing with one major benefit. Let's start with the highlight and then dive into some of the challenges.
Dynamic codes and peace of mind
Hands down the best part of a smart lock is being able to share temporary codes. This mostly comes in handy for us when we're traveling so that we can have a friend stop by to water our plants. Our landlord limits the code window to 48 hours, but for our use case that's plenty of time.
Sending a code is relatively easy, but it does require providing Smart Rent with our friend's email or phone number. It's not clear why they can't just generate a code that I can share myself and this does raise some privacy concerns for me (more on that later).
In addition to the convenience of temporary codes, the lock also lets me check its status from wherever I am. If I ever think I've left the door unlocked it's just a few swipes and taps to make sure. I can even lock the door via Google Assistant for added convenience. The lock could definitely be smarter here by knowing when I come and go based on location or bluetooth proximity, but I'm ok trading some extra legwork for the added privacy here.
So if the lock adds convenience and peace of mind then what is that mostly disappointing part I was talking about? My concerns and frustrations boil down to two primary categories: usability and accessibility, and privacy and security. I'll be tackling each in a separate blog post.
Let's start with usability and accessibility
Sometimes the old ways are best, however, and sometimes the best interface is centuries old. Let's break down using a traditional key.
1. Remove key from pocket
2. Insert key into keyhole (this may require some fiddling)
3. Twist key
4. Turn handle and open door
5. Remove key
6. Twist knob to lock the door from inside
In theory, a digital smart lock can help reduce these steps. I no longer need to find or insert a key so steps 1-3 go away. Now all I have to do is:
1. Enter my pin
2. Turn handle and open door
3. Twist knob to lock the door from inside
We've cut the process in half! Not only does a digital lock save steps, but it also has those super useful temporary pins.
Unfortunately the physical / digital interface introduces more complexity and failure points than the traditional physical-only lock.
A touch screen
Gone is the physical affordance of a lock and key. Instead of a key we can insert and turn, we now have a blank sheet of glass. Remember the PIN code management emailed us? Let's use it to unlock the door.
1. Activate the touch screen by placing your palm over the screen.
2. Enter your four digit PIN.
3. Hit the check mark to confirm
4. Wait for the motor to finish moving the bolt
5. Enter your apartment
6. Manually turn the knob on the inside of the door to lock the door
Within each of the steps there are a number of possible failure points and complications.
Step 1: Activate the touch screen
For new users there's no guidance on how to activate the screen. The only way to activate it is by placing your palm over the whole screen - a simple touch isn't enough. I'm not sure someone would figure this out without reading the documentation other than a lengthy battle of trial and error. Even when you know what to do, getting your palm flush with the door can be tricky given the hip-height placement of the lock and the flush alignment against the door.
Yale could improve on this by waking the touch screen on a tap or an extended press. If the screen were angled up towards the user the angle would be easier to achieve, especially for someone with tight forearms from rock climbing like me.
Step 2: Enter your PIN
Now that we've activated the screen we need to enter our code. The screen is a typical touch screen but lacks additional forms of feedback like haptics or sound. The only feedback that you've hit a button is a brief flash. With the lack of physical buttons and the close proximity of each number it's pretty easy to hit a number accidentally. Unfortunately there's no backspace so if you make a mistake you have to hit the checkmark, wait for a wipe animation, and start again back at step 1.
For someone with impaired vision unlocking the door would be nearly impossible. Theoretically you might be able to use the voice assistant or accessible smart phone apps, but both still require significantly more interaction than finding a physical keyhole.
Just because you can see the buttons, however, doesn't mean you can press them. What happens if you have your hands full of groceries, children, or are someone living with a disability? Making the precise movements to enter your code without accidentally hitting the wrong number is going to be a challenge.
What kind of message does this send to renters? Oh you're blind? Too bad you won't be able to open your front door. Oh you're frail or have Parkinson's Disease? This isn't the place for you. You're a parent carrying a baby in one arm with two bags of groceries on the other? Good luck making precise movements to hit your PIN just right.
Adding physical buttons could help both avoid accidental touches and also help visually impaired users find the right keys. I understand these could become worn over time and reveal your pin, but touchscreens show fingerprints and a rotating PIN could help avoid wear and tear on a limited set of buttons.
Steps 3 and 4 aren't too bad, other than taking some extra time for the motor to open the lock.
Step 5: Enter your apartment
The next big problem point happens as you're entering your apartment. When the door is unlocked, placing your palm against the screen locks the door. It's easy and convenient when you're leaving, but can you see the problem when you're entering?
As you're holding the door open, it's easy to accidentally cover the lock with your arm, hip, or back, extending the lock and preventing the door from closing. Luckily you're inside now so you just have to rotate the knob to unlock and then re-lock the door. The lock is too difficult to activate when you're trying to unlock the door and too easy when you're entering your apartment.
A "smart" solution here could be to use a simple sensor to know whether the door is closed. With the door closed, placing your palm on the screen could lock the bolt, and when the door is open accidental touches could be ignored.
Accessibility and usability
So many of the usability challenges with the Yale smart lock become even greater barriers for people in "complex" situations like carrying groceries or for people living with disabilities. Designing for inclusivity would make this a more user friendly product for everyone. Just because it's a smart lock doesn't mean we need to lose the benefits of physical, tactile interfaces like a lock and key.